Special Vehicle Operations (SVO)

SPECIAL VEHICLE OPERATIONS (SVO)
Luxury, performance and technology taken to the highest levels to create unique Jaguar cars.
SVO offers halo models, limited run collectors' editions and high-specification vehicles. Every car showcases the best of Jaguar with stunning performance, unsurpassed luxury and cutting‑edge technology.
—————————————————————————————————————————————————————————————————————————————-
SVO TECHNICAL CENTER
SVO is based at our brand new Technical Center in Warwickshire, England. This specialist manufacturing facility is the Jaguar Land Rover Center of Excellence and home to a team of 200 automotive specialists. The 215,000 ft2 SVO headquarters has over 40 engineering inspection bays and a world‑class paint facility.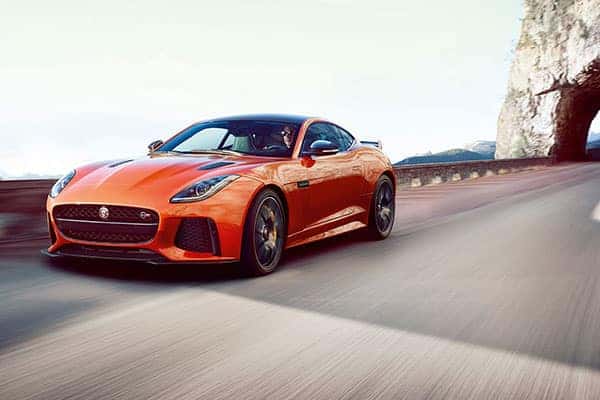 F-PACE SVR
Engineered for power and exhilaration. The F‑PACE SVR can roar to 60 mph in an astonishing 4.1 seconds.3
XE SV PROJECT 8
The most extreme performance Jaguar vehicle ever.
F‑TYPE SVR
The F-TYPE SVR is a car that truly raises the bar. Its state-of-the-art materials and advanced aerodynamic design push the F-TYPE beyond the extraordinary. The engineering team said, "Let's take this car to 200 miles an hour," and they did.
The 575 HP V8 engine launches you from 0-60 mph in 3.5 seconds.3 Reconfigured aerodynamics and an active carbon fiber rear wing reduce drag for outright speed, while reducing the lift coefficient by 45 percent for even greater stability through corners. With Intelligent All Wheel Drive, this is a true 200 mph all-weather supercar.3 The F-TYPE has been made lighter, more powerful, more aerodynamic and, as a result, faster.
—————————————————————————————————————————————————————————————————————————————-
To own the next performance icon from Jaguar, contact us for more information.